Pioneer DJ CDJ-3000 – Professional DJ multi player (Black)
SKU:

CDJ-3000
Our Price: $2,399.00
Available: Both Online and In Store
Out of stock
Description
Enhance your creative power with our evolved flagship multi player, the Pioneer DJ CDJ-3000. This robust unit is powered by a new MPU and packed with specially developed high-quality components and innovative features.
The MPU (micro-processing unit) is the first we've ever put in a CDJ. It drives the unit, delivering stable performance and enabling advanced new features, and creates a smoother overall DJ experience.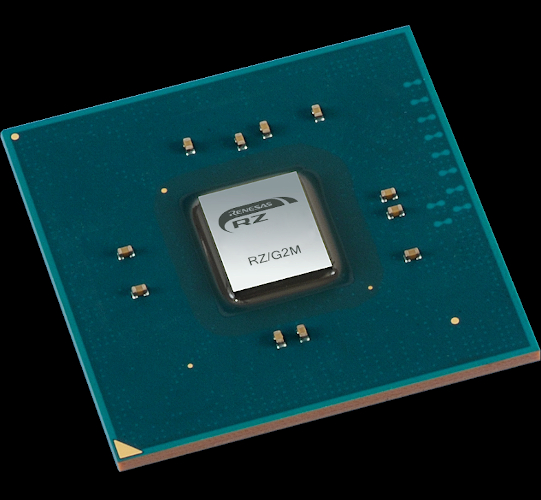 Advanced MPU
We've revolutionized the way the CDJ is driven with its new MPU, making it smoother and more stable than its predecessors. The MPU's processing power allows for new functions and lets us introduce more features in future updates.

Pro DJ Link with Gigabit ethernet
Thanks to the Gigabit Ethernet connection for Pro DJ Link, you can share and play audio files from USB devices and SD cards on up to 6 CDJ-3000 units when you combine them with a compatible 6-channel mixer such as the 
DJM-V10
.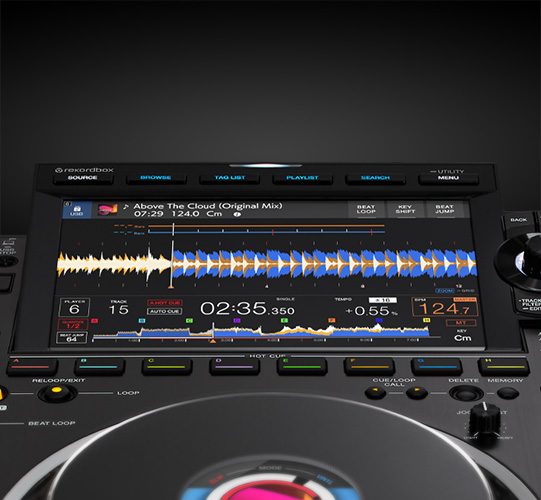 Better screen visibility
The maximum screen brightness has been improved by more than 150% compared to that on the CDJ-2000NXS2, so you can crank it up depending on the environment you're playing in and improve visibility.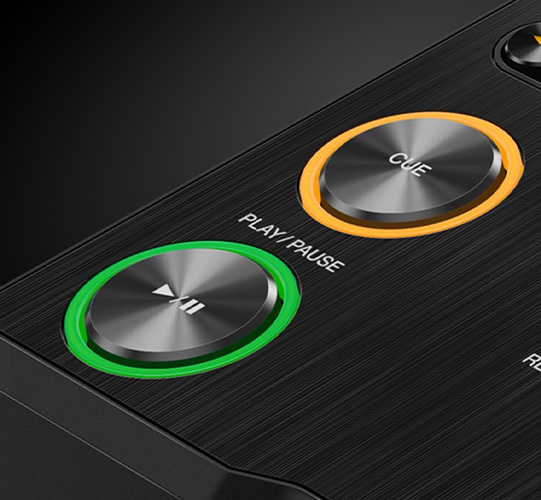 Tougher components
The high-quality aluminum top plate and redesigned play, cue, and Hot Cue buttons are stronger than ever. Also, the lockable V-Lock power cable* guards against accidental disconnections that could interrupt your show.
* Excluding some regions.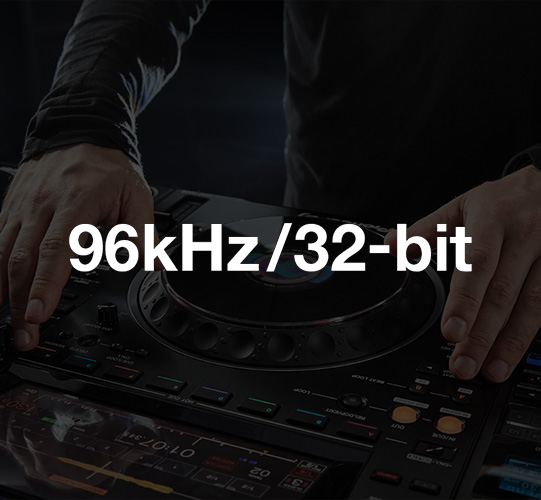 Realistic spatial sound and a more musical bass sound
The CDJ-3000 unifies audio calculation processing to 96 kHz/32-bit floating in all playable audio formats . Hear the nuances of the original sound source – like depth, ambience, and shifts in the timbre of the low range – for realistic spatial sound and a musical bass sound.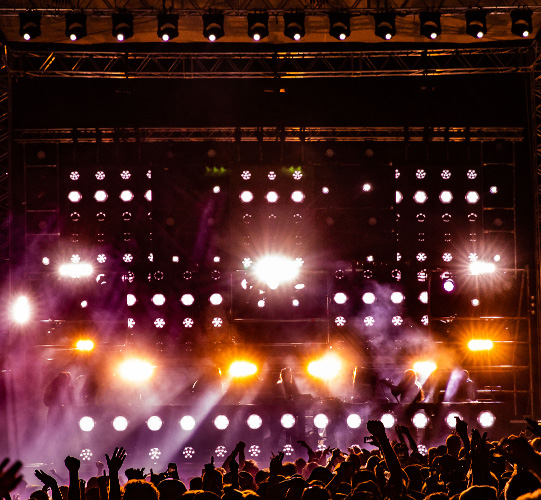 A natural sound – easy to listen to for long, high-volume sets
To maximize performance from the DAC (digital-to-analog converter), we've improved the circuit that outputs analog audio. We've also tuned the digital audio for optimum sound quality, hugely reducing digital noise, to create a natural sound that will keep crowds listening.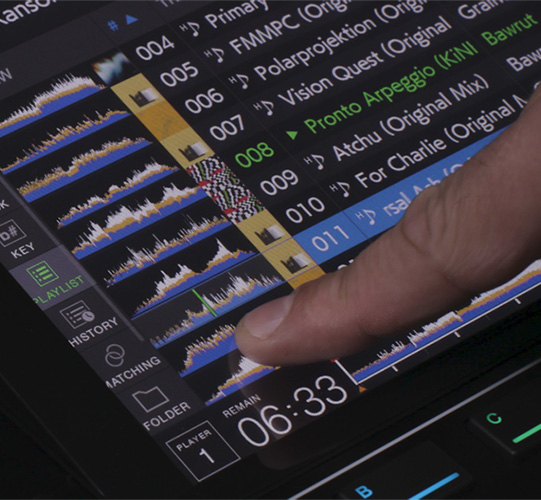 Touch Preview
Audition any part of a track by touching its waveform in the right place in the browse section. With multiple CDJ-3000 players connected to the DJM-V10 or DJM-900NXS2 mixer via Pro DJ Link, you can even preview tracks from another player with Link Cue.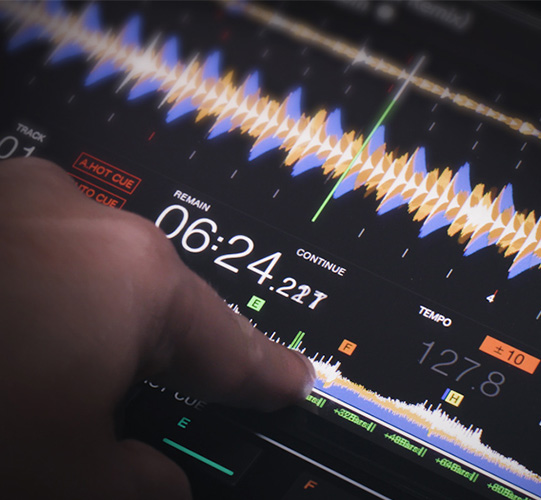 Touch Cue
Listen to another part of the track that's playing by touching the waveform – the crowd won't hear you. Learn the progression of a track and identify a mix point — useful during DJ handovers and back-to-back sets. Use Link Cue to listen to a track on another player.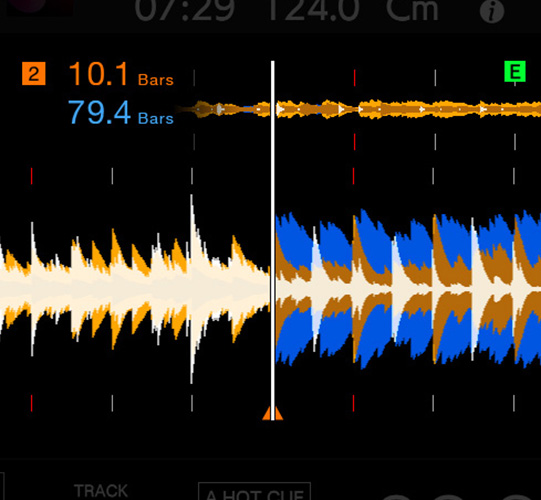 Stacked Waveform
Keep an eye on the enlarged waveform of the track on the master player and the one you want to cue up, all on one screen. Identify mix points and visually check the beatgrids are perfectly lined up at a glance.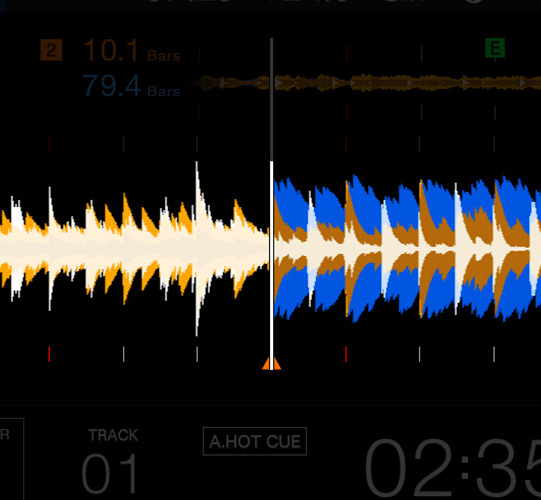 Support for 3Band Waveform
Understand a track's sound without even listening to it. 3Band Waveform uses different colors to show the volume of each frequency band in files analyzed by rekordbox, so you can see a track's composition at a glance. RGB and blue waveform options are also available.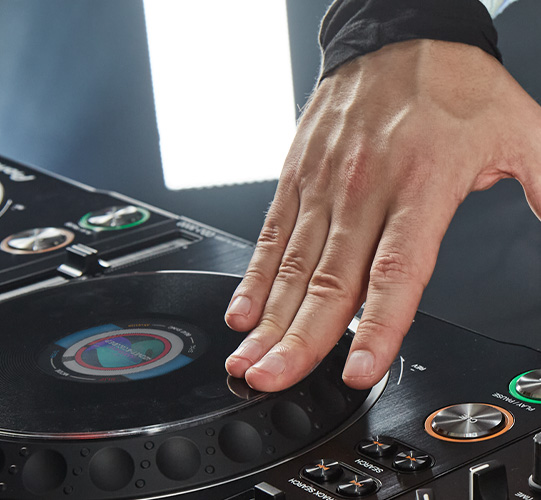 Our smoothest-ever jog wheel
Effortlessly scratch and smoothly bend the pitch of tracks. We've redesigned the jog wheel so it feels slicker than ever, with a reduced touch latency. The LCD screen in the center shows playhead position and artwork for a quick visual reminder of loaded tracks.